When it comes to making purchases quickly, it's hard to beat the convenience of a VISA® debit card. Get yours instantly when you stop by any of our locations.
Why Choose a Visa Debit Card?
Free with a Home Bank checking account
Instant-issue cards are available at every Home Bank location
EMV chip enabled (Demo video below)
Make purchases online or in stores
Get cash from any ATM
Funds deducted automatically from your account
Monthly account statements make tracking spending easy
See purchases right away with our Home Bank Mobile App
Use Card Valet within our app to turn your debit card "on" or "off," customize spending limits and more!
Enroll in debit card fraud alerts via text message to stop fraud in its tracks. (Details below.)
Video: Learn About Contactless Cards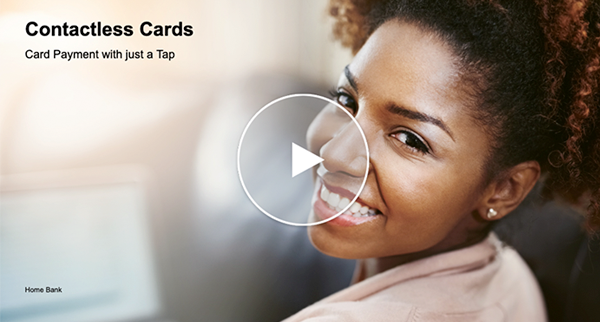 New! Text Alerts to Fight Fraud
About Card Fraud Alerts

In the past, when suspicious transactions occurred, we'd let you know with a phone call.
Now you'll be notified via text message.
How Does It Work?
With Card Fraud Text Alerts, if our system detects suspicious activity on your debit or credit card, you will receive a text message with details about the suspected transaction. All you have to do is respond to the text to confirm the transaction.
If a suspicious transaction appears on your card, you'll receive a text from code 37268 asking you to confirm if the activity is legitimate.
If you indicate the transaction is fraud, your card will be closed, and you will receive another message with a number to call for follow-up. If not, you are all set. The system will mark the transaction as legitimate, and you can get on with your day – simple as that.
If confirmed as legitimate, the charge will proceed as usual. If the activity is marked as fraud, your card will be blocked, preventing further fraudulent charges.
Getting started:
If we have your mobile phone number on file, you do not have to do anything. It's really that easy. If there is suspicious activity, we will send a text alert right away.
If you need to verify or update your mobile phone number give us a call at 866.401.9440.
Call us at 866.401.9440 or visit us online at home24bank.com for more information.
Card Fraud Text Alerts